Mechanical, electrical and plumbing systems have an important role in the built environment, since they sustain an adequate environment for human occupancy. However, the healthcare sector brings additional challenges, since there are recovering patients and many types of specialized equipment. For example, an electrical fault may only cause disruption in an office, but it can disable life support equipment in a hospital.
Due to the additional requirements of healthcare facilities, MEP installations tend to be more expensive than in other buildings. While the exact cost distribution varies by project, these systems will normally represent over 40% of the budget in healthcare buildings. However, experienced MEP engineers can find ways to cut costs without affecting performance.
---
Are you in charge of a healthcare construction project? Cut costs and boost performance with a professional MEP design.
---
Like in any building project, an optimized layout is less expensive simply because it uses less materials. However, MEP coordination for healthcare brings additional challenges, since there is medical equipment with specific requirements. Also, the building systems must create the best possible environment for patient recovery.
In healthcare projects, the engineering team in charge of MEP design and coordination must have specialized knowledge to deliver the best possible results. By hiring professional engineers for the design stage, project owners can save valuable time and resources during construction.
The Role of HVAC Systems in Healthcare Buildings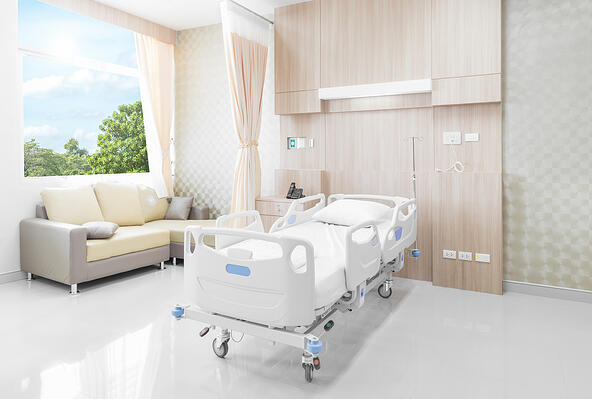 In most residential and commercial buildings, the function of HVAC systems is keeping a comfortable temperature and humidity, while preserving indoor air quality. However, the role of HVAC is much more important in healthcare:
Ventilation systems must provide sufficient airflow for all areas of the facility, but they must also prevent the spread of infectious diseases. For example, there is evidence that COVID-19 can spread through the air. This represents a severe threat in a hospital, where patients are recovering from other conditions.
Some areas of healthcare facilities have stringent requirements for humidity control. Depending on the climate zone and season of the year, dehumidification or humidification systems may be necessary.
Steam is required in many healthcare applications, introducing an additional system to the MEP design and coordination process.
These are just some examples of additional MEP requirements for the healthcare sector. Design engineers must meet all the specifications provided in building codes and client documentation, while optimizing project costs and improving energy efficiency.
HVAC systems should also create a comfortable environment. This covers aspects like temperature and humidity, but also noise and air speed. When HVAC systems produce air drafts and noise, the room will be uncomfortable even at the ideal temperature and relative humidity. This is unacceptable in healthcare buildings, especially in areas like patient rooms and surgery rooms. In many cases, a deficient HVAC design may even delay recovery.
Glare from lighting systems is another aspect of comfort that is often overlooked, and this not only applies for healthcare. Architects and engineers should deliver a lighting design that does not cause visual discomfort for patients and health personnel. This involves an adequate selection of lighting fixtures, and also a layout that delivers uniform lighting without glare.
Fire Protection and Emergency Power in Healthcare Buildings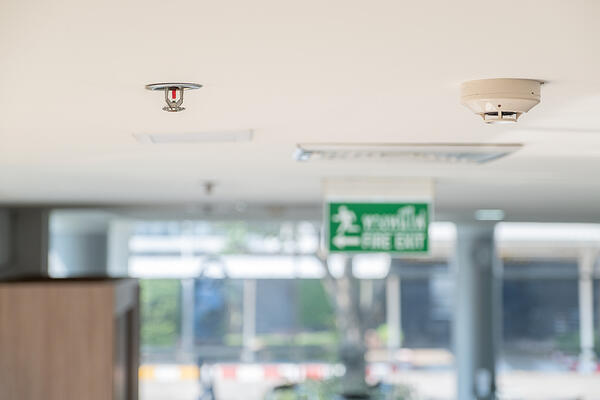 Fire protection and emergency power systems are important in any building, but the healthcare sector brings additional challenges, just like with HVAC design. Healthcare facilities often have occupants who cannot evacuate on their own, and this creates an additional challenge during emergencies. Therefore, the MEP systems that activate during an emergency should be as reliable as possible.
There is zero tolerance for failure when dealing with fire protection systems. A smoke alarm that does not activate may waste valuable minutes that can be used to evacuate the building, and a sprinkler system that does not activate may let a fire spread beyond control. However, fire protection engineers must consider the presence of patients and medical personnel in healthcare buildings.
Sprinkler systems and other fire protection measures must be highly reliable, but without creating a hazard for patients.
For example, there are critical surgeries that cannot be paused, and any fire protection measures present must be designed to avoid disruptions.
Having a reliable emergency power system is also critical in healthcare, since many types of medical equipment run with electricity. Even a few seconds of electric power interruption can have severe consequences, especially when there are patients relying on life support equipment.
Conclusion
The MEP design and coordination stage impacts the entire life cycle of a project. When building systems have an optimal layout, their installation can be completed with minimal disruption. A high-performance MEP design can also reduce operation and maintenance costs over time. These are valuable features in any building design, but especially in the healthcare sector, where the upfront investment and operating costs are very high.
The healthcare sector brings additional design challenges. For example, many issues that only cause disruption in other buildings can be life-threatening in a hospital. Working with MEP engineers who are experienced in healthcare buildings is strongly recommended.
---
Want the best engineering stories delivered straight to your inbox? The ATMOS Integrated Services newsletter gives you vital updates on the most cutting-edge engineering and exciting new job opportunities. To sign up, click here.