From designing new products to transforming manufacturing processes and rethinking supply chain management… innovation is undoubtedly a key asset in the manufacturing industry and for engineers. And this is where Xometry, a global player in on-demand manufacturing, steps in.
When it comes to innovation, time is clearly a decisive factor. That's why there's no better way to source parts efficiently than with a partner that has all the necessary production capacity on a single dedicated platform.
Reduced project times and high production capacities
Xometry's large network of over 2,000 certified providers across Europe is capable of consistently delivering fast turnaround times and competitive pricing. The company offers 14 manufacturing processes from more traditional techniques to cutting-edge additive manufacturing technologies:
CNC machining: CNC turning, milling, and drilling
Sheet metal fabrication: laser, plasma and waterjet cutting, bending
3D printing: FDM, MJF, SLS, SLA, DMLS, Carbon DSL, and Polyjet
Injection moulding: plastic injection, overmoulding, insert moulding
Die casting: hot and cold chamber die casting
Xometry supports engineers and companies with their manufacturing projects for both prototyping and serial production. Its team of experts can advise you on design and feasibility based on 3D models to ensure your prototype parts are flawlessly produced. Once the design is validated, you can start mass-producing your parts. If you have an urgent high-volume project, Xometry can arrange simultaneous production at several sites to meet challenging deadlines.
Instant quotes online in just a few clicks
Xometry's AI-based Instant Quoting Engine is an online platform that uses computational geometry algorithms to analyse 3D models for accurately rendering design details for manufacturing and assessing part complexity. These algorithms are inspired by the way a machinist analyses a part design and are the result of an ongoing collaboration between Xometry's expert machinists and the computational geometry team.
All you need to do is upload a 3D design and the Instant Quoting tool provides you with the most competitively priced quote possible for your parts. If you change the technology and material, you can see how the price changes. This elaborate system supports engineers and product designers who are looking for a reliable partner to provide estimates for various parts and prototypes while also saving time.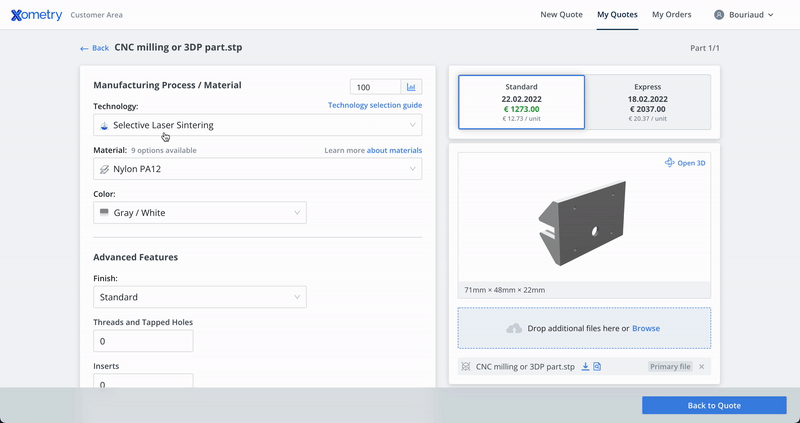 On-demand manufacturing is suitable for various applications
Over the years, Xometry has helped numerous UK-based companies in various industries with their innovation projects. Xometry provided:
Hybrid Marine Ltd with mechanical components to produce their hybrid engines for marine crafts that combine combustion engines with electric motors, generators, and batteries
ConnectomX with CNC machined parts for their katana microtomes (electronic scientific devices used for biological research). This innovative project made them a pioneer in this specific market
Warwick Moto with 5-axis CNC machined parts to produce a subframe for a highly innovative electric superbike. An interdisciplinary team of 25 students and academics were working at the forefront of electric motorsport
What all of these companies have in common is that they believe Xometry offers an efficient way of getting custom parts produced quickly and at a competitive price.
---
Want the best engineering stories delivered straight to your inbox? The ATMOS Integrated Services newsletter gives you vital updates on the most cutting-edge engineering and exciting new job opportunities. To sign up, click here.