When developers start a new construction project, a common practice is hiring separate engineering companies to design mechanical, electrical and plumbing installations. However, this approach creates a considerable management challenge, since the developer must coordinate design teams in separate companies, ensuring that all building systems interact properly.
There are also equipment providers that offer design services, but the system configurations available are limited to the product offering of that specific provider. The end goal of suppliers is to sell their own equipment, and developers don't have a chance to consider other solutions that may be a better match for the project.
A simpler and smarter approach is working with a MEP engineering firm, which covers many areas of expertise. This way, developers can delegate not only the technical aspect of design, but also team management. Building systems cannot be designed in isolation, since they share physical spaces and they have components that interact directly – for instance, many types of HVAC equipment are powered by electricity.
---
Optimize your MEP design while reducing project costs.
---
MEP Design Is Not Only a Technical Challenge
MEP design seems like a straightforward process, where the goal is to specify equipment and devices that meet the needs of the building. However, there are many challenges that go beyond the functional aspects.
Code compliance: Even if a building system accomplishes its intended function, it may miss code requirements. For example, some codes specify additional safety measures or a minimum level of energy efficiency.
Permits and other paperwork: A code-compliant design is required for project approval, but the construction plans and specifications must also follow specific formats. Projects must be documented properly for approval.
Meeting deadlines: Construction cannot start unless the project is approved, and in turn the approval process requires a completed design. Since a delayed project causes inconvenience and financial losses for the developer, completing the design on time is very important – effective team management is key.
Cost optimization: Ideally, a project design should meet codes and owner requirements at the lowest cost possible. There is a common misconception that savings are only possible at the expense of performance, but this is not the case.
When building systems are designed in isolation, the project often becomes more expensive and the design process takes more time. Errors are also more likely, and there may be equipment location conflicts and compatibility issues. The simplest way to avoid these issues is by working with a MEP engineering company that delivers an integrated design.
Building codes and permitting formats represent an ongoing challenge, since they are reviewed and updated by authorities at regular intervals. However, a qualified MEP engineering firms is highly familiarized with codes, documentation, and their latest requirements.
Enhancing the Design Process with Technology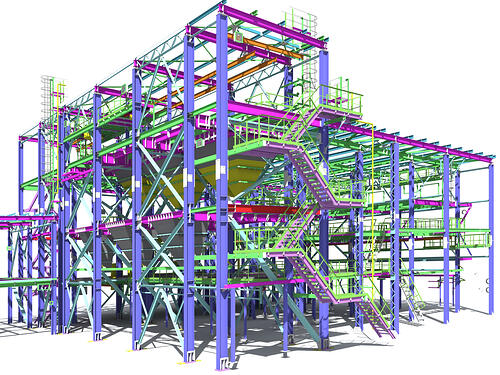 Construction drawings were once drafted by hand, a process that required a high input of man-hours. Drafting was greatly simplified with the development of computed-aided design, allowing two-dimensional drawings in just a fraction of the time.
Modern design software is based on building information modeling, or BIM, where engineers can create a three-dimensional model of the project with material and equipment properties. This allows enhanced visualization and planning of construction, and bills of materials can be calculated with automatic tools.
Advanced building models continue to be useful even after the project is completed, since they can be used as a basis for building modifications and maintenance activities. The BIM file can be updated constantly to track the condition of equipment and components, scheduling replacements well in advance.
---
Want the best engineering stories delivered straight to your inbox? The ATMOS Integrated Services newsletter gives you vital updates on the most cutting-edge engineering and exciting new job opportunities. To sign up, click here.